Contrast Masking Kits
"Lynn Radeka's masking kit is sophistication through simplicity. Just by looking at his sample images, one must agree that nobody can argue with success. The handbook and the technical articles alone make this kit a real value for the money."

Ralph W. Lambrecht - photographer/author, Way Beyond Monochrome, UK

More testimonials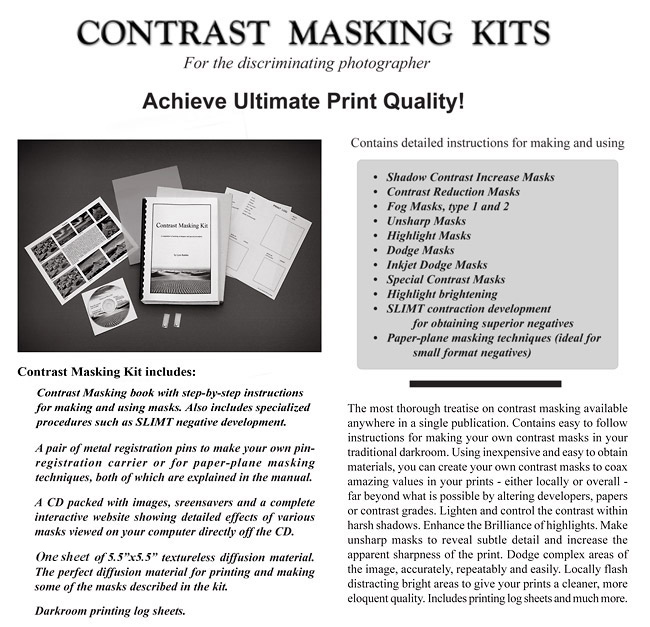 See More Contrast Masking Kit Information
Bisti Badlands (cropped section)

Mask effects

Straight print (no masks)
Simple masking example showing the use of a contrast reduction mask and shadow contrast increase mask. The end result is vastly greater shadow detail. The shadow areas are lightened and local contrast within those shadows is increased resulting in a more tactile, three dimensional appearance. The contrast reduction mask creates a slight sharpening of the image as well. Masking effects are completely customizable, from very subtle to extreme. Possibilites for print quality enhancement are endless!
| | |
| --- | --- |
| | The Contrast Masking Kit contains some materials which otherwise may be difficult to obtain. Some of the masking procedures in this kit have not been previously published and are the result of Lynn Radeka's experimentation over the past 35+ years, and some have evolved from experimentation during the Contrast Masking Workshops. Master photographer and teacher Dr. Dennis McNutt, along with photographer Mark Jilg, wrote three of the masking articles included in the kit as well. Whether you're a beginning photographer or an experienced professional, you'll find the techniques detailed in this kit amazingly easy to follow and apply. The bottom line: Contrast Masking is easy to do, very inexpensive, not overly time consuming and can have a remarkably profound effect on your print quality - so much so that it just may change the way you view fine-printing forever! |
Your original negatives are never punched or damaged in any way.
Masking films are readily available, easily obtainable and inexpensive. The Contrast Masking Kit contains sources for these materials.
Contrast masking does not change your preferred paper or developer choice (use variable contrast or graded paper and any paper developer).
Contrast masking works with negatives developed in any developer (staining developers, standard developers, etc.).
Many different kinds of masks can be made, each having a different effect on print quality.
Masks can be completely customized to provide very subtle to extreme enhancements in shadows, highlights or midtones.
Since masks are pin-registered, they can be stored separately from your negatives and used at any time, even decades later!
When used properly, masks will have a seamless effect on your prints.
Masks can be used to alter/enhance overall tonal values or locally in specific, detailed areas of the image.
Masking works remarkably well with contact printing large format negatives as well!
Enhance highlight contrast and brilliance by hand using the special highlight brightening formula included in the kit. Works with any paper
See More Contrast Masking Kit Information
Some of the more powerful masks explained in the kit require the use of a pin-registered negative carrier. The kit includes detailed instructions by Dennis McNutt and Mark Jilg (along with diagrams and a pair of registration pins) for making a simple registration carrier quickly and inexpensively, or you may want to consider the Precision Pin-Registration Carrier System , used by professionals and photographic enthusiasts throughout the world. The Precision Pin-Registration Carrier System provides the ultimate in accuracy and efficiency for making and using all of the masks detailed in the Contrast Masking Kit. No need to make your own registration carrier!
---
If ordering by check or money order, you may print out and fill in our
order form
. Please make all checks payable to Lynn Radeka. If paying by check or money order, please inquire first by using the e-mail links on this site.
- Contrast Masking Kit and Carrier Systems price list -

Contrast Masking Kit - NEW VERSION - (for any enlarger size or contact printer) $94.95

4x5 and 8x10 Precision Carrier Systems

Enlarger size

Price

Complete Carrier System - Includes Precision pin-registration carrier, holder/frame, two-hole punch, solid foam base and Contrast Masking Kit*

4x5

$509

8x10

$1399

Standard Carrier System - Includes Precision pin-registration carrier, holder/frame, two-hole punch and solid foam base (does not include Contrast Masking Kit)

4x5

$459

8x10

$1349

Precision Pin-registration glass carrier only **

4x5

$279

8x10

$649

Precision Holder/Frame only **

4x5

$229

8x10

$799

Please add appropriate shipping cost:
Carrier systems - 4x5 - $20 within USA, $60 outside USA,
8x10 - $40 within USA, $85 outside USA
Contrast Masking Kits - $10 within USA, $30 outside USA
All 8x10 carrier systems: Please specify enlarger type during the checkout process.
* The extra set of registration pins that normally come with the Contrast Masking Kit are not included in the Contrast Masking Kit that is bundled with the Complete Carrier System, since registration pins are already attached to the glass carrier. All other Contrast Masking Kit items are identical to purchasing the Contrast Masking Kit separately.
** Glass carriers and holders are offered separately here only for use as replacement parts. Please note that each "holder/frame" unit can have only one carrier calibrated to it at a time. You cannot switch freely from carrier to carrier without re-calibrating the holder/frame matching that specific carrier.
All photographs on this site are copyright © Lynn Radeka. All rights reserved.
Precision Pin-Registration Carrier System copyright © 2002 Lynn Radeka. Patent pending.
Contrast Masking Kit copyright © 2000 Lynn Radeka.